Estoy intentando crear un certificado SSL de LetsEncrypt mediante Cerbot usando la validación DNS, pero me llega a dar este error porque por defecto en Cpanel esta activado para solo evitar las DNS A y CNAME pero Cerbot necesita poder editar los registros TXT.
Error adding TXT record: Your hosting provider must enable the "Zone Editor (AAAA, CAA, SRV, TXT)" feature to perform this action. Currently, only the "Zone Editor (A, CNAME)" feature is enabled for your account.

Es importante saber que para activar esta opción debemos tener ser Root y tener acceso al panel de administración WHM.
Solución:
Nos logueamos en WHM:
https://hostname:2087
Luego vamos al siguiente Menu:
Packages >> Feature Manager >> Edit Feature List
Ahora buscamos la palabra "Zone" , activamos la siguiente opción y guardamos con "Save"
Zone Editor (AAA, CAA, SRV, TXT)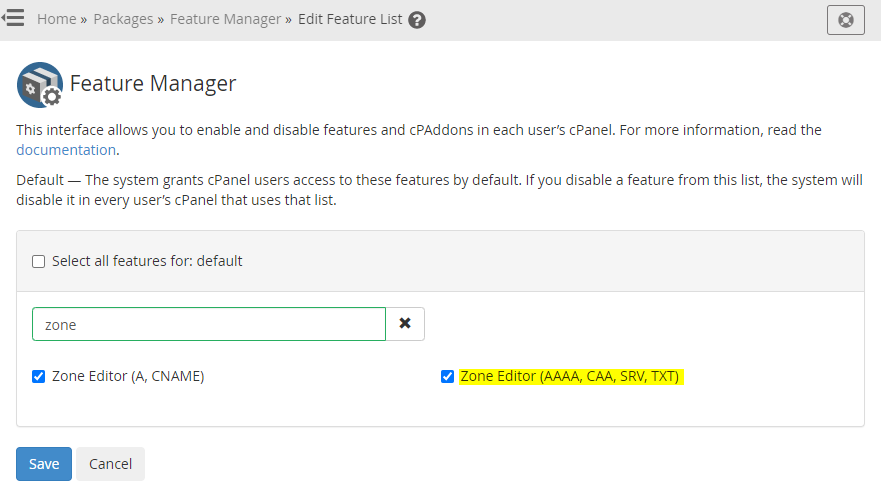 Error: Command failed: /usr/bin/certbot certonly --non-interactive --cert-name "npm-13" --agree-tos --email "xxx@xxx.com" --domains "test.vicolinker.net" --authenticator certbot-dns-cpanel:cpanel --certbot-dns-cpanel:cpanel-credentials "/etc/letsencrypt/credentials/credentials-13" --certbot-dns-cpanel:cpanel-propagation-seconds 30
Saving debug log to /var/log/letsencrypt/letsencrypt.log
Plugins selected: Authenticator certbot-dns-cpanel:cpanel, Installer None
Obtaining a new certificate
Performing the following challenges:
dns-01 challenge for test.vicolinker.net
Cleaning up challenges
Error adding TXT record: Your hosting provider must enable the "Zone Editor (AAAA, CAA, SRV, TXT)" feature to perform this action. Currently, only the "Zone Editor (A, CNAME)" feature is enabled for your account.

    at ChildProcess.exithandler (child_process.js:308:12)
    at ChildProcess.emit (events.js:314:20)
    at maybeClose (internal/child_process.js:1051:16)
    at Process.ChildProcess._handle.onexit (internal/child_process.js:287:5)


Referencias: