Cuando los usuarios intentan crear una base de datos aparece este error.
Esto se debe a un bug que hay con la version 10.3.23 de MariaDB que se instala automáticamente al actualizar cPanel.
Para solucionar este error tenemos 2 métodos:
Nota: Acabo de editar el post con otro método porque cPanel ya lanzo una actualización.
Método 1: Actualización de WHM a la Release
cPanel acaba de lanzar el Fix de este error en el canal CURRENT de las actualizaciones pero es solo para Centos 7 (si usas Centos 6 ve al método 2), para activarlo debemos de ir a WHM > Server Configuration > Update Preferences  y activar el canal CURRENT.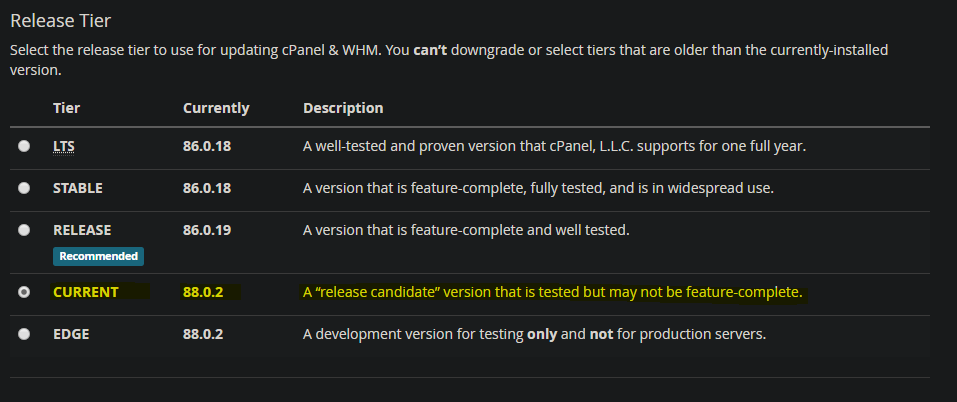 Después de esto vamos a Home > cPanel > Upgrade to Lasted Version y le damos a Click to Upgrade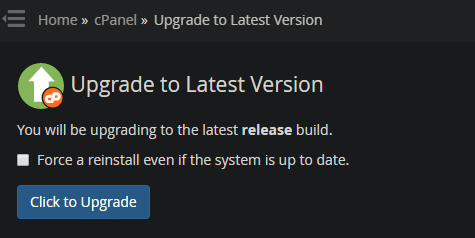 Método 2: Hacer un Downgrade de MariaDB
Tambien podemos hacer un downgrade a la version anterior de MariaDB (10.3.22).
Este método no es muy recomendado porque MariaDB corrige 4 fallos de seguridad importantes en la v10.3.22 , pero en caso estés usando Centos 6 o no quieres ir al canal CURRENT puedes hacer el downgrade ejecutando en SSH lo siguiente:
yum -y downgrade MariaDB-server MariaDB-common MariaDB-shared MariaDB-client MariaDB-compat MariaDB-devel

Verificar que funcione correctamente:
Una vez que termines con el fix de alguno de los 2 métodos vamos nuevamente al panel de crear Base de datos (En el lado cliente) y ya debería verse normal: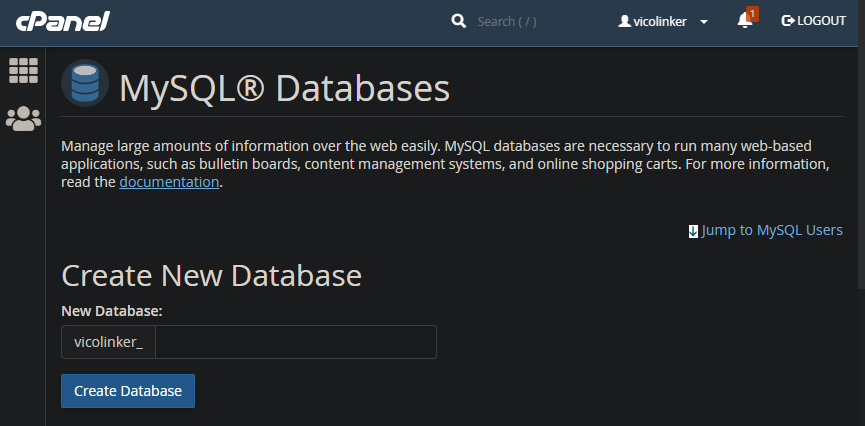 MariaDB Release Notes:
https://mariadb.com/kb/en/mariadb-10323-release-notes/
Vulnerabilidades Parchadas en v10.3.23 :
cPanel Post oficial del error :
https://forums.cpanel.net/threads/cpanel-32712-updating-to-mariadb-10-3-23-on-cpanel-breaks-the-mysql-databases-interface.672141/
Texto del error:
10.3.23-MariaDB - MariaDB Server
The MySQL server is currently offline.

Error encountered while fetching data: There is no such grant defined for user 'cpses_vil0mjxx' on host 'localhost'
DBDISKUSED	vicolinker_xx1	13402112
DBDISKUSED	vicolinker_xx2	11389
DISKUSED	173488116
DB	vicolinker_xx1
DB	vicolinker_xx2
DBUSER	vicolinker_user1	vicolinker_user2
USER	vicolinker_user